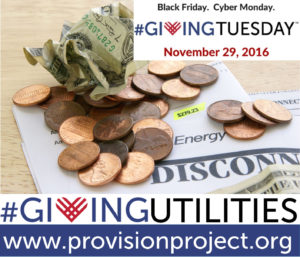 Women fighting breast cancer have an unimaginable amount of bills to pay. Sixty-two percent of bankruptcies in the United States are due to medical expenses. And 72% of those families had medical insurance!
What happens when you only have enough money to pay for chemotherapy or keeping the lights on for your family? This is not a decision that should have to be made.
Provision Project pays an extraordinary amount of utility payments (averaging $156 each) for the families we serve. Help keep these families safe and secure through our #GivingUtilities campaign on #GivingTuesday.
[button color="green" width="large" href="
https://provisionproject.z2systems.com/donation.jsp?campaign=7&" target="blank"]DONATE TO #GIVINGUTILITIES[/button]