This is Day One: Breast Cancer Journey
 by Rachel Dubree
Rachel is a mom of four beautiful, brilliant, and talented children, a wife, daughter, sister, aunt, friend, drill sergeant, short-order cook, housekeeper, chauffeur, manager, peacekeeper, nurturer, cheerleader, role model, trendsetter, innovator, mentor, leader, teacher, sports fan, prayer warrior and Jesus lover.  And she just happens to have breast cancer.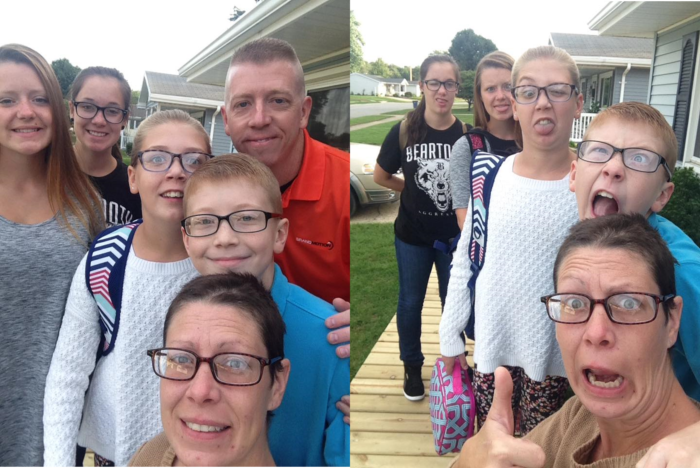 It's a beautiful morning! Breeze is blowing. Sun is shining. Birds are chirping. Pups are wagging. God is still good. I still have cancer.
In fact, I have been aware that the beast is residing in my person for 2,542 days now. In that time, I have done endless loads of laundry, driven countless miles to and from schools, attended multiple open houses and parent teacher conferences, cheered from the bleachers at a gazillion athletic, musical and academic events, prepared hundreds of meals, updated the family calendar for months on end in everyone's specific color and run miles upon miles on my own two feet. I have laughed and made love. I have raised my hands in worship and prayed. I have danced. Boy, have I danced. I have been fine.
I have also been the recipient of hundreds of rounds of chemo, been under the knife and had scopes or scans bunches, swallowed enough pills that the white ones alone could have formed a replica of White House if someone had a steady enough hand and some fierce glue, slept on the couch, slept on the edge of the bed, slept on the bathroom floor, slept on the toilet and spent several nights in the hospital. I have vomited …. a lot. Sometimes through my nose and hard enough to pop blood vessels in my eyes and my cheeks. I have pooped bricks. I have uncontrollably pooped in almost every pair of pants that I own. I have been a test subject to multiple specially mixed mouth washes to combat mouth sores so that I could eat. I have eaten everything in sight. I have gone days without eating. I have been unable to move and cried out in pain. I have lost my fingernails, toenails and hair. I have lost friends. I have spent thousands of dollars on things to make me comfortable-ish. I have peed blood. I have cried myself asleep. A lot. I have lost parts of body parts. Bits and pieces of my physical person. I have acquired dozens of scars. I have mourned the loss of my "old self". They tell me that I'm sick. Yep.
In 2,542 days, I have lived. I have lived with gusto. (OK, some days it was more like sporadic gusts or the occasional light breeze). I haven't hit my crescendo yet. I know that to be true, in the deepest part of my being. This is not about all of the good and the bad. I'm coming up on 7 years as "a woman with cancer." I don't want a stupid t-shirt. I don't want pink ribbons and balloons. I don't want a "happy 7 years" shindig. I'd probably think the cake tasted like metal and stale farts anyway. It wouldn't be your fault; that's just what chemo and radiation does to the taste buds.
What's the point? This is Day One. Every day is Day One. It's a DAY and it's yours and you get to experience it! Today, I'm going to try to make it to the toilet when my body decides it's time to purge. Today I am going to let go of the wheels while I go down the ramp …. because …. adventure. Today I will be thankful for all that everyone does around me instead of being resentful that I cannot do it myself right now. Today I will be closer to hitting that crescendo but only by a little bit because I'm not rushing it. In fact, I hope it takes a long while. Don't count your days, friends. They are already numbered and really, that number is none of your business. God is still good. ALL THE TIME.