Archive for the 'Emotions' Category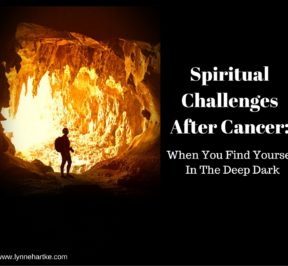 Sep 04
Final post in a series on Life After Cancer.
by Lynne Hartke
When my husband was in college, he and a group of friends went spelunking in an undeveloped cave near Columbia, Missouri called Devil's Icebox.
Unbeknownst to them, while they spent hours exploring the the 6.25 miles of underground passages, it had started raining. When they attempted to return to the entrance, through a narrow tunnel where they had to meander like snakes on their bellies, they noticed the water was rising.
The only place to gasp for air was when there was a break in the rocks in the ceiling. An air pocket. In the scramble to get out of the narrow section and save their lives, all the lights in their carbide head lamps got drenched.
Their lights extinguished.