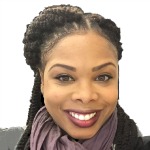 June 21, 2016 — Portland, OR — Provision Project continues to grow in its mission to provide financial assistance to women in active treatment for breast cancer.  Because of the success we achieved in our first eighteen months, we are delighted to announce some exciting changes at Provision Project.
Jan James has moved into our new "Founder" position.  Jan has spent the first year of the Provision Project setting vision and getting our legal/financial structure in place.  Her new role will be vision-casting, fundraising, marketing, publicity and working closely with the Executive Director.
We are thrilled that former Provision Project board member, Rashida Willard, will now assume the role of Executive Director of Provision Project.
After Rashida's own battle with breast cancer in 2013, she dove right in to helping others in the breast cancer community. In the Pacific Northwest, Rashida has taken on a leadership role in a private breast cancer support group and has built meaningful relationships with women in that group. "I have connected personally with so many women going through this awful but beautiful journey and am excited to provide leadership to such a wonderful organization. The need for financial assistance is so great and that is why I love and wholeheartedly believe in the work Provision Project does. "
Rashida brings a wealth of knowledge in business management and organizational leadership and dynamics. Her experience and passion will see Provision Project well into the future.
Provision Project, Inc. is a 501(c)(3) whose mission is to provide financial assistance to women in active treatment for breast cancer.  Provision Project is an all-volunteer non-profit organization based in Mesa, Arizona.